Research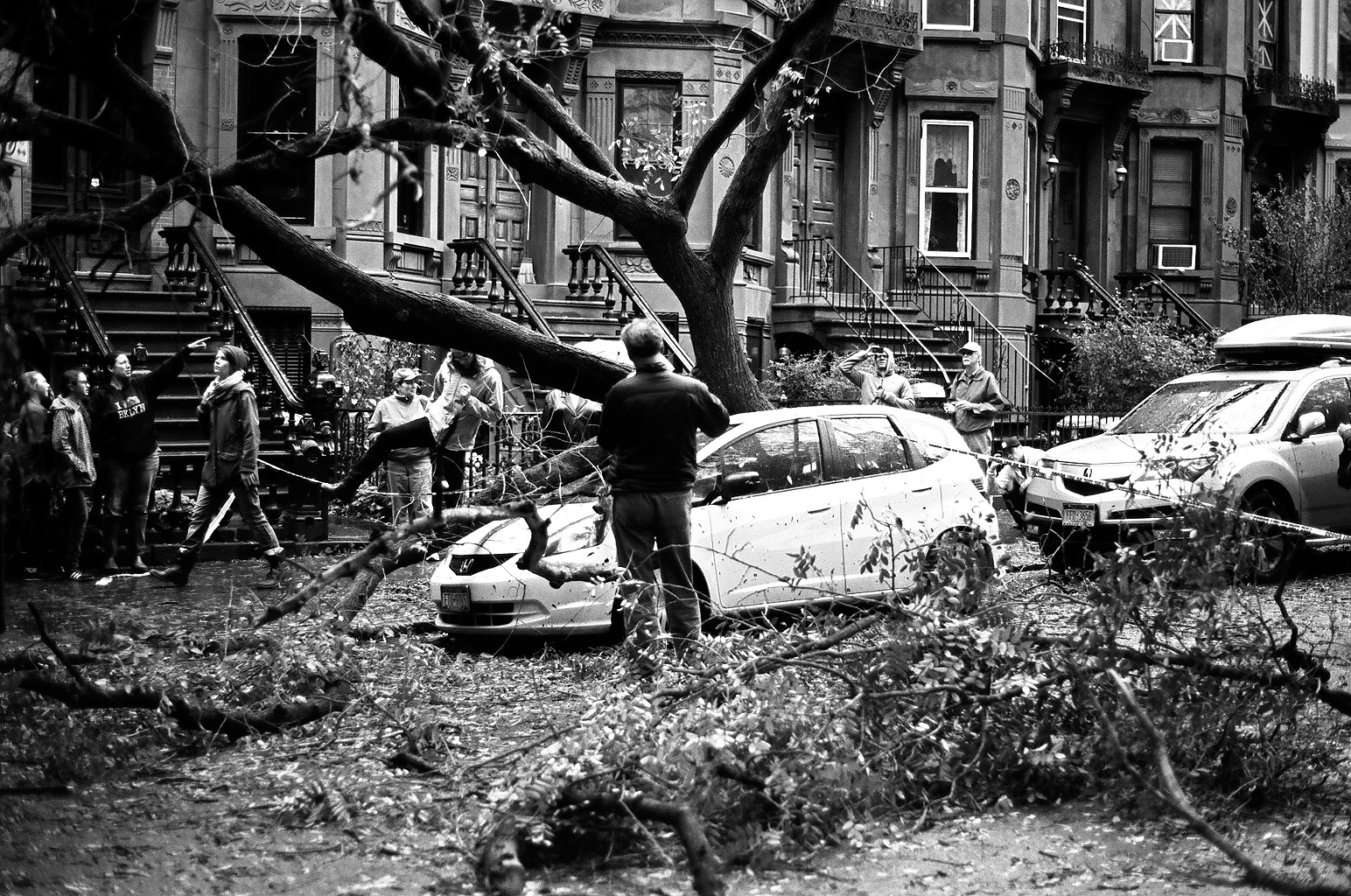 This is a photo of storm damage from Hurricane Sandy. I took it outside my house the day after the storm.
My research is grounded in both rhetoric and composition, as I bring rhetorical scholarship to bear on circumstances commonly encountered by teachers of composition. Above all, I am interested in the rhetorical situations of teaching, and my research aims to responsibly and proactively attend to the conditions teachers encounter, whether they are disasters (as examined in my dissertation), intransigent material spaces, or other exigencies that arise. I hope to offer both nuanced understandings and concrete strategies for response to teachers who face situational challenges. Further information on projects I am undertaking is available below.


Dissertation
Before the Aftermath: A Pedagogy for Disaster Responsiveness, UNC Greensboro, May 2019

My project uses rhetorical theory, writing pedagogy, and affect theory to examine how composition instructors respond to social, natural, and political disasters. Employing qualitative and textual analysis, I depict the pedagogical and affective struggles of teachers confronting strained circumstances. I argue for specific teacher-training interventions to prepare teachers for disruption, with the goal of establishing habits of critical openness, radically-contingent pedagogy, and reflexive self-development.
Publications
"Material Inertia: The Sedimented Spatial Rhetoric of Public School Buildings." Rhetoric Review 39.4 (forthcoming, October 2020)
I examine the case of extremely long-durationed material objects—specifically, a New York City school building constructed in 1906—to argue that scholars of materialist rhetoric should bring greater methodological attention to the role that duration plays in affecting their objects of study. This research was profiled in the UNCG Office of Research Engagement's "Research Perspectives" blog in 2016.
"Shelter in Place: Contingency & Affect in Graduate Teacher Training Courses." The Things We Carry: Strategies for Recognizing and Negotiating Emotional Labor in Writing Program Administration, ed. Courtney Adams Wooten, Jacob Babb, Kristi Murray Costello, Kate Navickas, Utah State University Press. (forthcoming, Spring 2020)
This essay, drawn from my dissertation, highlights the responses of adjunct teachers in response to Hurricane Sandy in New York City in 2012, drawing from qualitative interviews I conducted as part of my research. In particular, this essay version specifically targets recommendations to Writing Program Administrators, who may face challenging circumstances like this in the future, and seek guidance on how best to help the teachers they supervise respond.
"Isocratean Rhetoric and the Making of Market Citizens." Present Tense 7.2
In this essay, I argue against a particularly insidious and pervasive logic that leads people both inside and outside the academy—from politicians, to students, and even to teachers—to justify the work of composition in market-based, economic terms. As a counter to this, I argue for a model of collective citizenship, grounded in Isocratean rhetorical practice, that allows students to constitute their own citizenship through participation.
In Progress
"Charlottesville is on the Syllabus: The Hashtag Syllabus as Teacher-Activist Genre." (Under review)
This work is originally drawn from my dissertation research, but currently exists as a standalone article, separate from my ongoing book project. In it, I examine the trend of teachers in higher education adopting an activist role to respond to contemporary circumstances of violence and disruption, and pursue a rhetorical genre analysis of a new genre, the hashtag syllabus, to demonstrate how teachers use this form to respond to political violence and social unrest publicly and pedagogically. I argue for understanding the users of the hashtag syllabus genre as adopting the role of teacher-activist.
Presentations
Invited Presentations
"Teaching Natural Disasters," week-long visit, funded by Linnaeus University, involving lectures and teaching, Linnaeus University, Växjö, Sweden, May 2019
National and Regional Conferences
"The Charlottesville Syllabus as a Genre for Disaster Response," CCCC, Milwaukee, WI, March 2020
"Expecting the Worst: Implementing Disaster Preparedness Workshops for GTAs," Carolinas Council of Writing Program Administrators Fall Conference, Little Switzerland, NC, September 2019
"Emotional Labor in the Wake of Disaster," Council of Writing Program Administrators Conference, Baltimore, MD, July 2019
"Ars Poetria: Strategies for Incorporating Poetry in the Composition Classroom," CCCC, Pittsburgh, PA, March 2019
"Situating Rhetorical Failure in Disaster," CCCC, Kansas City, MO, March 2018
"It's All the 'Real' World: Workshop on Teaching the Hidden Connections between the Public and the University," Carolina Rhetoric Conference, Clemson, SC, February, 2018
"Material Inertia: The Sedimented Spatial Rhetoric of Public School Buildings," CCCC, Portland, OR, March 2017
"The Fertility of Crisis in Pedagogy," South Atlantic Philosophy of Education Conference, Boone, NC, February 2017
"Isocratean Rhetoric in the Making of Global Citizens," Carolina Rhetoric Conference, Raleigh, NC, March, 2016